Teaching in the International Classroom
LocationUtrecht
Duration22 hours
Starting momentin consultation
LanguageEnglish
Teaching methodAt location
CertificationCertificate
Price€865
This course is aimed at teachers who (will) teach in English in an international classroom and want to know more about the intercultural and didactic implications of teaching in a diverse and international classroom. Teaching in the International Classroom equips staff to take on the challenges of teaching to an international and therefore diverse student population. The course provides hands-on practice and tailored strategies that can be directly implemented in your own teaching context.
Suitable for
Dutch and international teachers in higher education who (will) teach in an international classroom
Content
Teaching in English in the international classroom requires a methodological shift because it does not only affect teaching performance but also has an impact on the interaction with and among students. We will discuss the didactic implications for teaching as well as for learning in an international classroom.
An important consideration in this is expectation management: how can you make the implicit explicit? We will focus on encouraging interaction between Dutch and international students and we will provide teaching tools for different teaching contexts, e.g. lectures, seminars/tutorials and supervision.
Lastly, we will discuss the role (and impact) of grading and assessment in the international classroom. You will work with your own course materials.
Objectives
After completing the course, participants will be able to:
use didactic and presentation skills (including compensation techniques) that a non-native speaker of English needs in order to
provide high-quality activities to a diverse group of students encourage interaction between (Dutch and international) students
reflect on differences in cultural and educational backgrounds in the international classroom
adapt assignments and assessments for use in the international classroom
Participants will receive a certificate when they actively participate in at least three of the four course meetings.
Fee for UU lecturers
Lecturers of Utrecht University can use O&T units (if available) or can otherwise participate at reduced rates. In either case in consultation with their own faculty.
The course has four sessions:
Session 1 (Teaching in English/ Intercultural competences)
Implications of teaching in English
Stating expectations
Intercultural competences
Session 2 (Lectures)
Structure and clarity
Using an inclusive materials and case studies
Interactive lectures
Session 3 (Tutorials)
Challenges and best practices for tutorials
Guiding students from day-to-day language to a higher-level academic use of language
Classroom vocabulary
Session 4 (Grading and Assessment)
Different grading systems
Giving all students the change to succeed
Adapting your assessment(s) to better suit an international classroom
Stay informed
This course has not yet been planned, so registration is not yet possible. Would you like to be notified when new dates have been planned? Sign up for the waiting list with no further obligations.
Incompany / customized course?
We also provide this course incompany, and customized if desired. Are you curious about the possibilities? Please contact us. We are happy to think along with you.
Trainer
Dr. ir. Hetty Grunefeld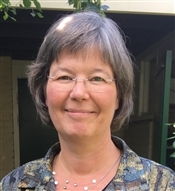 Trainer
Dr. G. (Gemma) Corbalan Perez
Do you have an (educational) question, or are you curious about in-company and customisation options? We would be happy to explore the possibilities with you.
Please contact us via:
onderwijsadviesentraining@uu.nl
030 253 2261
About Educational Development & Training
Educational Development & Training translates academic insights into the daily practice of teaching. As a teaching professional you can come to us throughout the course of your career for training, advice and solutions tailored to your specific teaching-related needs. Visit our website.
Payment and cancelation terms and conditions
Terms and conditions of payment and cancelation apply to all services provided by Educational Development & Training.